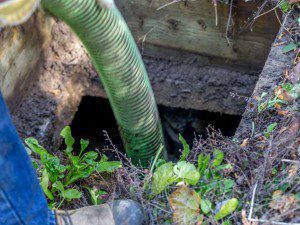 Your septic tank is a safe, cost-effective way to treat wastewater. However, your septic system must be properly maintained in order to work well and keep your property clean and safe. Routine septic tank cleaning is the best way to make sure everything is working properly, helping you avoid messy, unsanitary septic backups.
Hudson Septic Tank Cleaning provides septic tank pumping services for residential and commercial customers in the Rock Hill, SC area. We have over 32 years of experience and can help you with any type of issues with your tank.
Our trucks are equipped with 250 foot hoses. We can reach septic tanks that other companies can't. In addition to our cleaning and pumping services, we install new septic tanks, septic risers, and sand traps.
Need emergency septic cleaning or pumping? We're available seven days a week.
How Often Should You Clean Your Septic Tank?
The South Carolina Department of Health and Environmental Control (DHEC) recommends routine septic tank cleaning based on the size of your tank and the number of residents in your home. For example, a three-bedroom home with four occupants should be pumped every 2.6 years. Not sure when your tank was last pumped? Call us for a septic inspection. We'll determine if your tank needs to be cleaned and will make sure it's in good working condition.
Septic Risers
One of the most inconvenient parts of having your septic tank pumped is the damage it does to your yard. Septic risers can help minimize the amount of excavation that is needed. These round devices are around 20-24 inches in diameter and allow the tank to be accessed from ground level.
Sand Traps
Sand traps are used by car washes, garages, car dealerships, and other types of businesses that pump and dispose of large amounts of water and oil. We use the latest equipment to pump your sand trap and remove any build up that reduces its effectiveness.