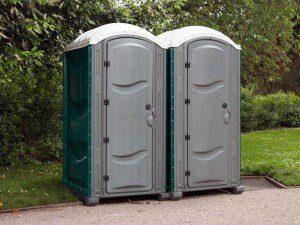 Portable restrooms have a variety of uses, from special events to commercial needs. No matter why you need them, your guests or employees will appreciate the convenience of a clean, sanitary portable toilet.
Hudson Septic Tank Cleaning offers portable restroom rental services for the Rock Hill, SC area. We have many different types of units available. We offer many different options for sizes and features. Call us to talk about your specific needs. We can recommend which units would work best for your particular event or job site.
Available Features
In addition to basic portable toilets, we offer units with many special features.
We have portable restrooms that are handicapped accessible. These units have wider doors for wheelchairs and have handrails for added support. These are also good for parents who need to accompany their children or who need extra space for diaper changes.
For special events or weddings, consider our deluxe restrooms. These units have more room so your guests will be more comfortable.
For construction sites, we offer specially built portable toilets. These units have a non-slip floor and can accommodate more usage than a traditional portable restroom.
Handwashing stations are available with any portable restroom rental. These stations dispense fresh water or hand sanitizer and are particularly useful at events with lots of children and families.
Holding tanks are available for construction sites and other instances where waste will need to be stored. These tanks are available with a capacity of 100 gallons or more. Talk to us to see if this might be a good solution for your site.
Service
When you choose portable restroom rental from Hudson Septic Tank Cleaning, you'll get fast, dependable service seven days a week. We offer pickup and delivery for all of our portable toilets. For long-term rentals, we offer pumping service.